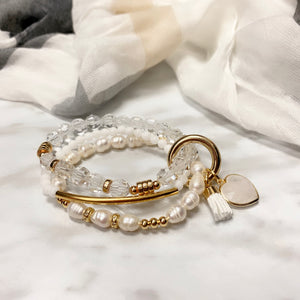 3 IS A CHARM PEARLY STACK
A beautiful stack of 3 bracelets with a combination of fresh water pearls, white jade and crystals with removable ring with brass charms.
Pearls have always had a delicate feminine allure!
You can take advantage of the versatility of this set by wearing it grouped as pictured, wearing the bracelets on their own by removing the ring, wearing them grouped with other bracelets & finally you can even wear the ring of charms on a necklace! 

Sold as a set.
Stretch bracelets measure 7 inches  
**Please specify the length you would like at check out, in the notes section, otherwise the original length will be shipped.