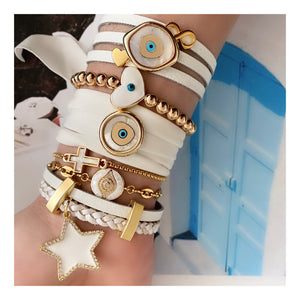 WHITE LINEN STACK 2
A beautiful stack of white and gold mix stones and fabric and leather
Sold separately.

Please specify size if you are purchasing these bracelets. standard size is 7 inches

From top to bottom

1. wrap around 3 times faux leather with eye, infinity and heart charms, magnetic clasp

2. 6 mm gold plated hematite beads with enamel heart with eye,  stretch 

3. lycra stretch with evil eye

4. simple cross with enamel and adjustable stainless steel chain gold plated

5. round eye with enamel and cubic zirconia ansd stainless steel chain, clasp closure

6. leather bracelet with enamel star with cubic zirconia and magnetic clasp.