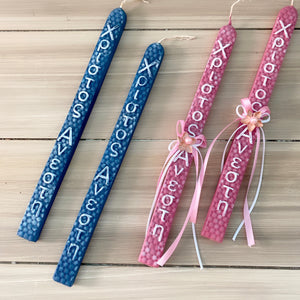 XRISTOS ANESTI WORDING HAND PAINTED
Handmade easter candles, measuring 12 inches.
Rectangular textured candle with rounded tip.

Hand painted greek wording xristos anesti (christ has risen)

This simple but effective candle comes in 2 colours, royal blue and dusty rose.

The dusty rose candle is decorated with dual coloured ribbon with a pearl centre, pretty candle for pretty little girls .

The royal blue stands on its own, it has presence!